Boston University & KIND Snacks: World KINDness Day Event
Written by: Allison Zuckerberg, AMF Chapter Leader at Boston University
It was the KIND bar representative at BU (Melissa Gallanter) who reached out to our chapter with the idea of partnering for an event in celebration of World Kindness Day, Nov 13 – she had in mind something like the Before I Die wall we had done two years ago. With our combined efforts, we constructed a Wall of Kindness- basically, two large chalkboards with the words across the top saying, "I pledge to be kind by…" The Student Activities Office approved our event and reimbursed AMF for all the necessary materials. We reserved a space on our campus for our event to be Nov 13. We spread the word about the event through our social media accounts. The BU Ad Club helped me create digital content for mass sharing, and our vice president completed an interview with the BU radio station. Our club advisor reached out to BU Today to have an article on our club be published the day of the event, and various members contributed quotes to the article.
On the day of the event, volunteers informed passersby of the missions of both AMF and KIND. We unified our organizations through a common message- we are all going through challenges, loss, grief, or just plain old bad days. Acts of kindness and support from each other have the power to make each day brighter, easier, and so much better. We tabled next to the Wall of Kindness, giving out informational flyers and Grief Sucks lollipops alongside KIND snacks and flowers. I took down the names and emails of students who were interested in joining AMF or participating in our future service events.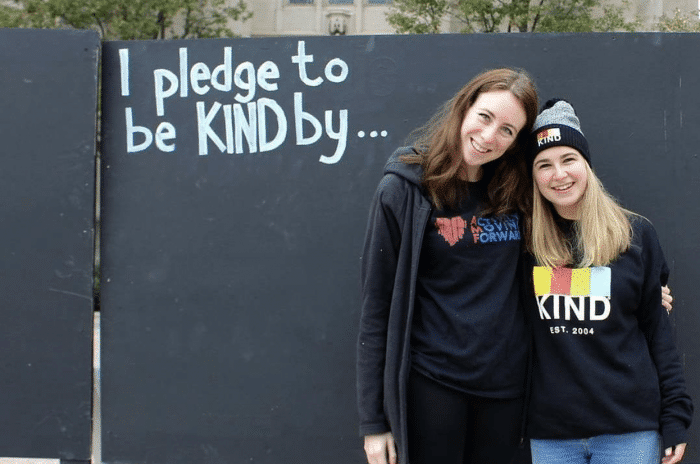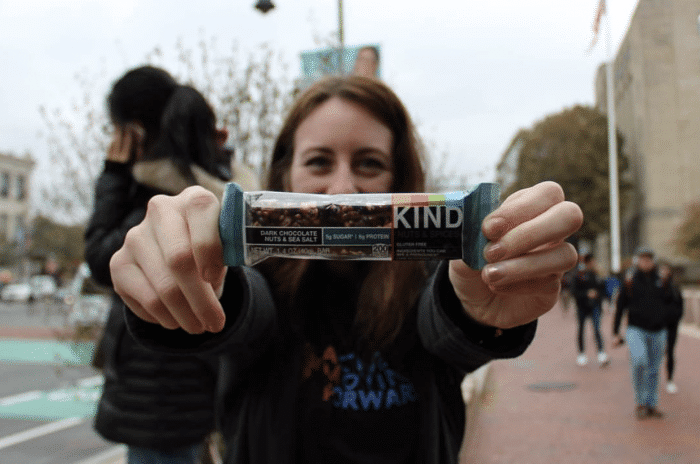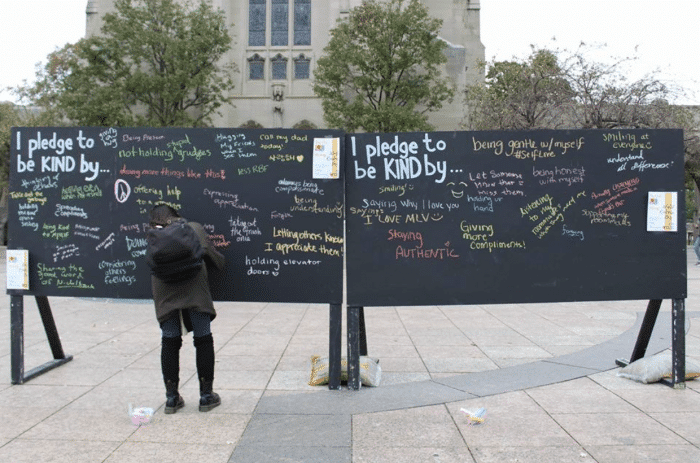 Florida Atlantic University: Wellness Splash
Keith, Chapter Leader of AMF at Florida Atlantic University
Actively Moving Forward® at FAU had the opportunity to host Wellness Splash, a two-week event that aimed to raise awareness and end the negative stigma on mental health. Created as a civic engagement project for their Rhetorical Analysis of Democracy class, the students were able to fulfill their mission through five days of events involving such themes as Purpose, Depression, Relationships, Anxiety, and Suicide. The final day concluded in a march across campus to the pool where the students and others recruited along the march all jumped in to create a
splash
for mental health.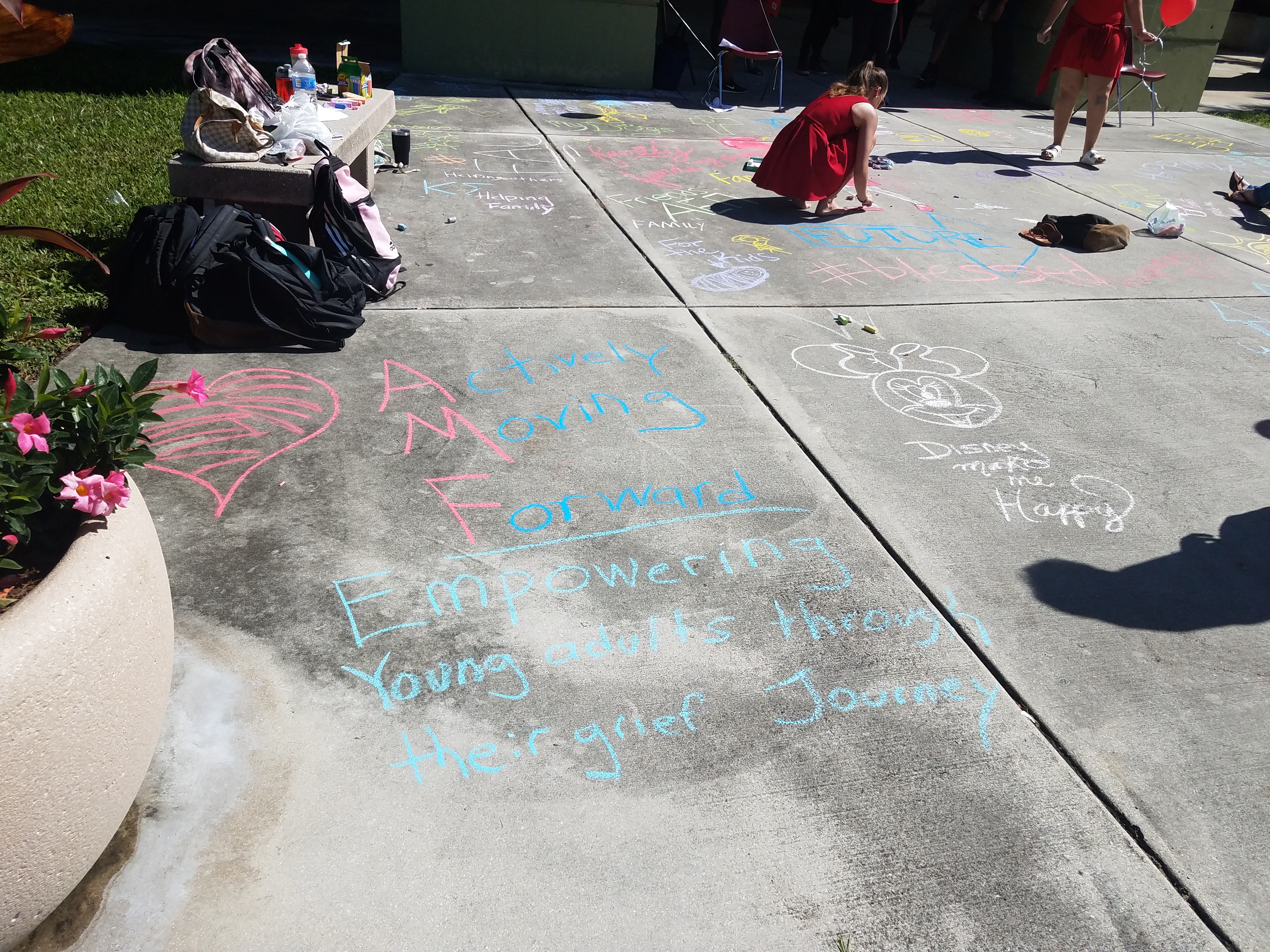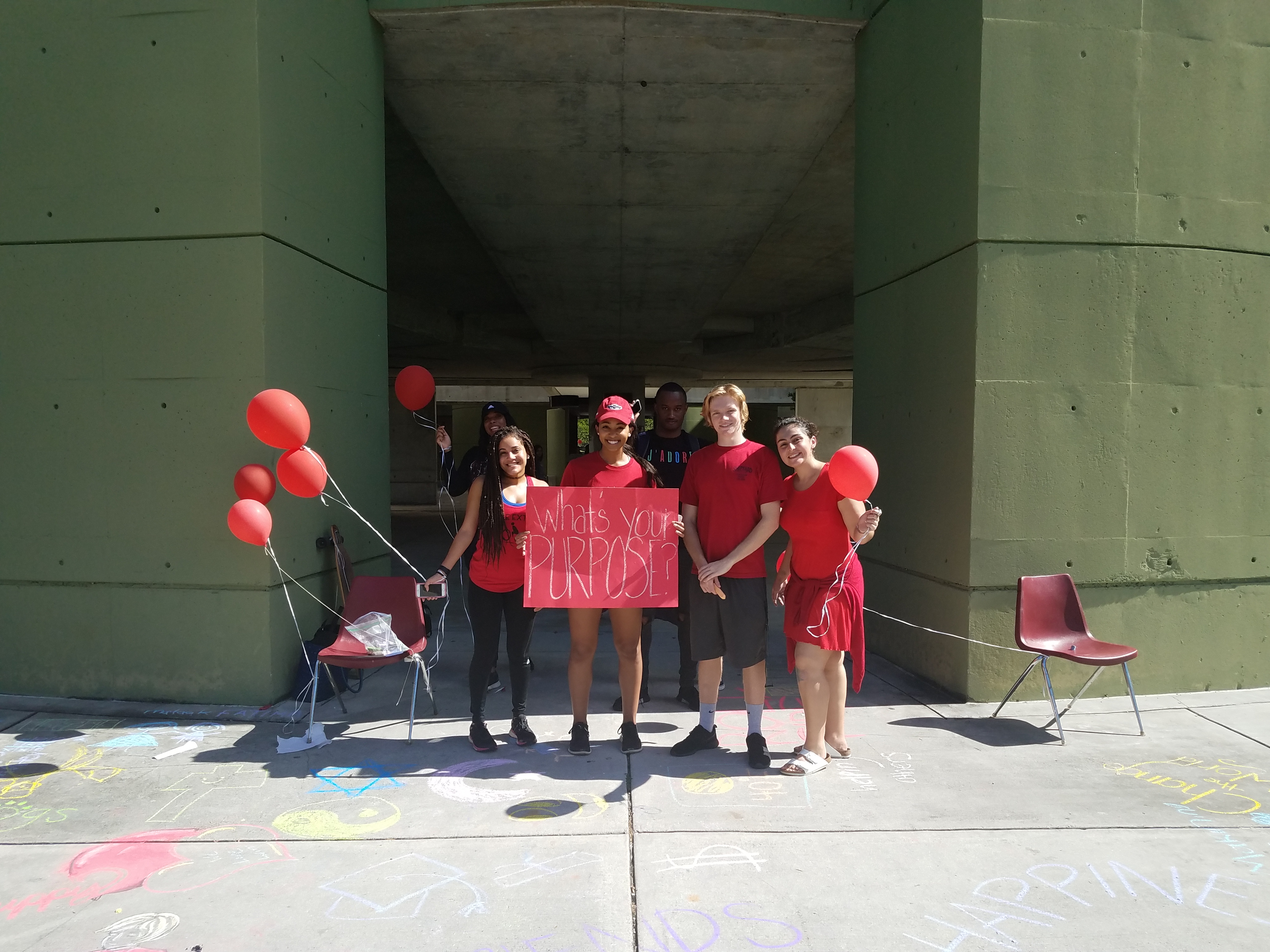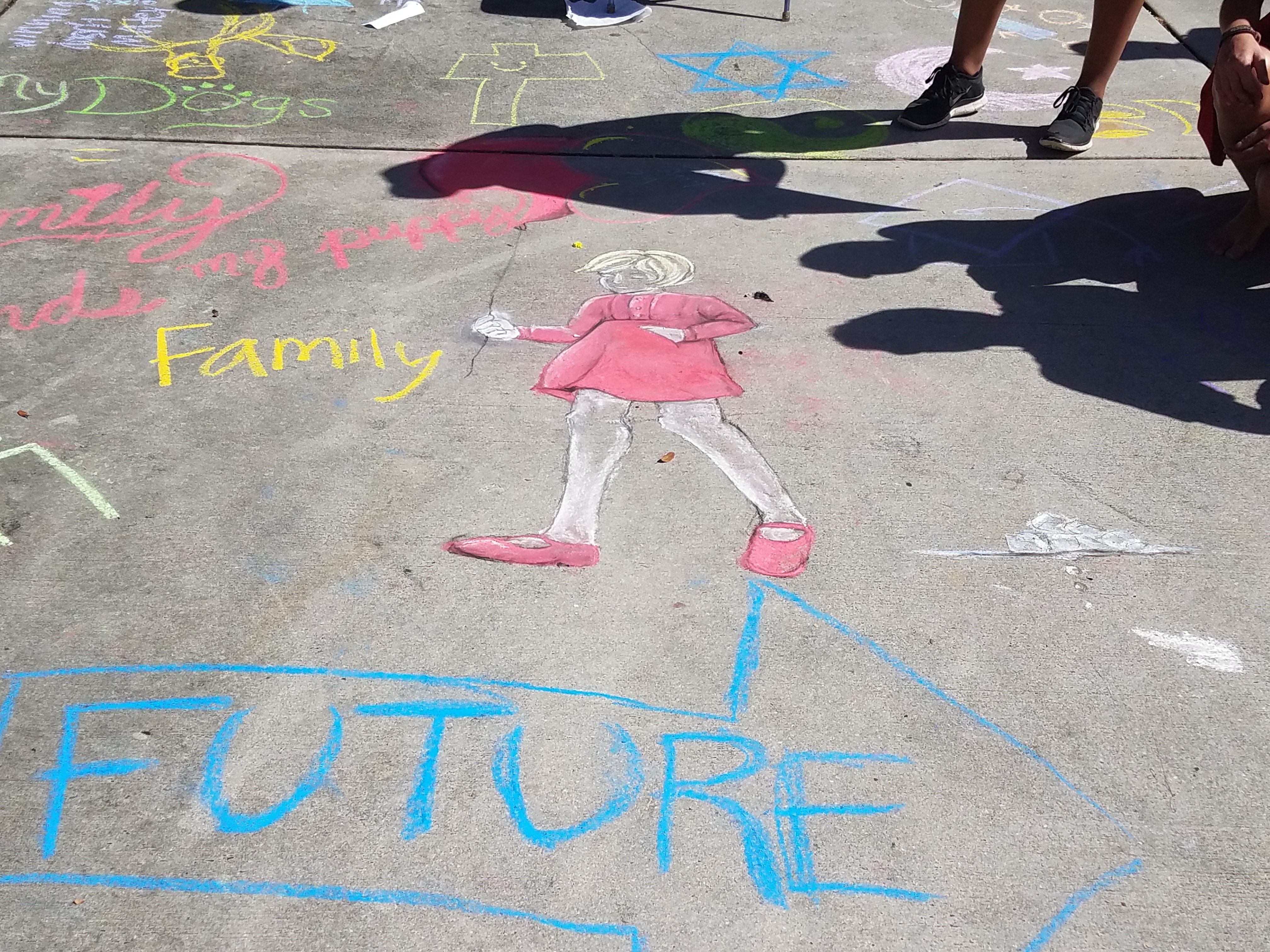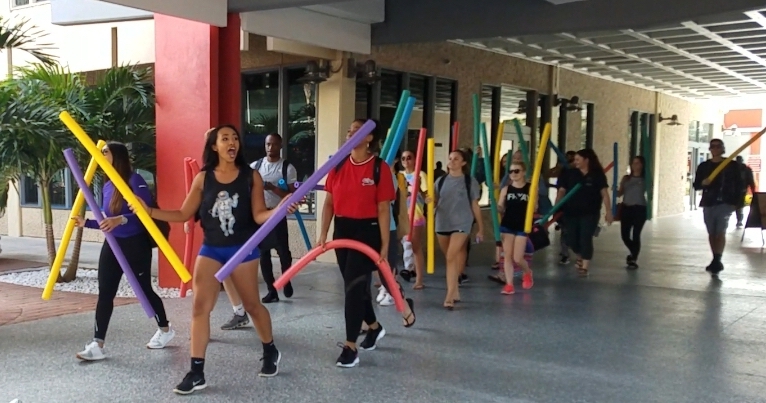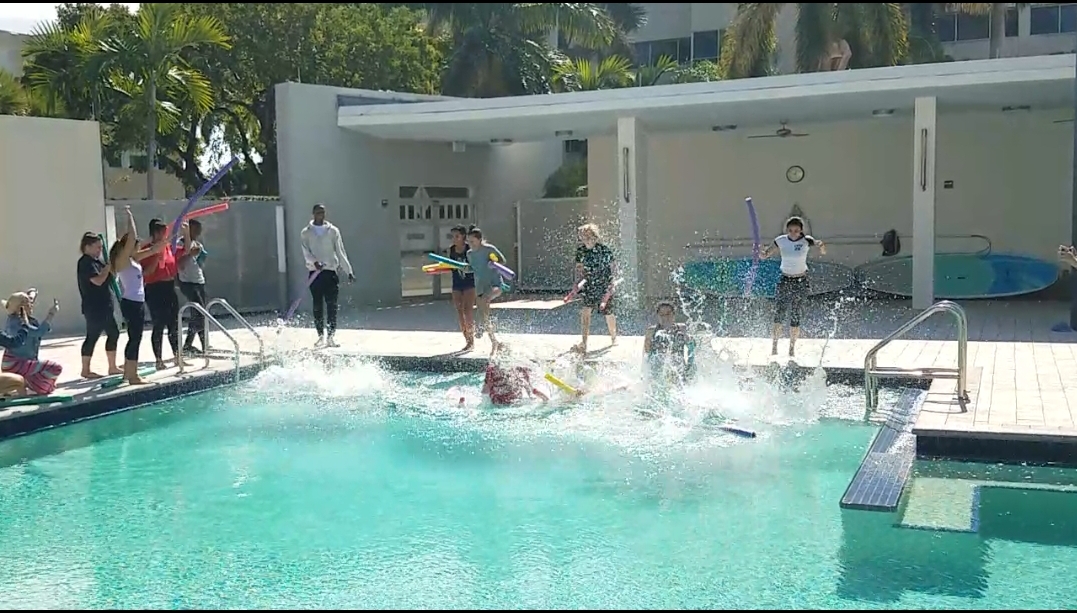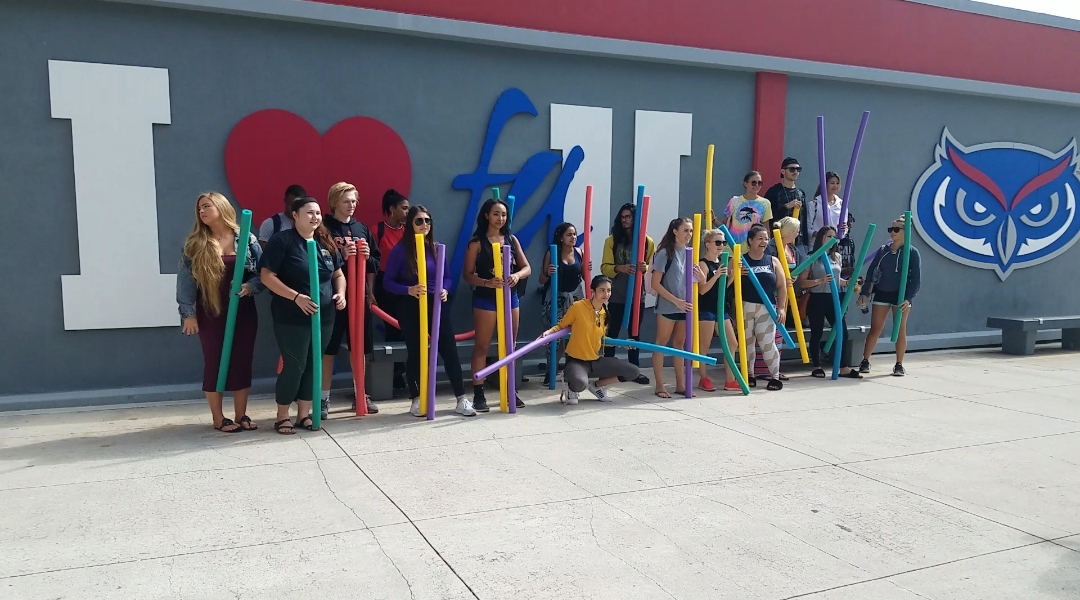 ---
University of Florida: Grab One – Leave One
Chapter Leader of AMF at University of Florida
The Grab One – Leave One event where passing students were encouraged to take a positive and uplifting note from a fellow student and then leave one in return."We wanted to catch students at their most stressful time (during exam season and on the way to class) and remind them that they are valued, that everything will be okay and most importantly that they are not alone. We were so pleased by the outcome of this event and hope to do it again soon!"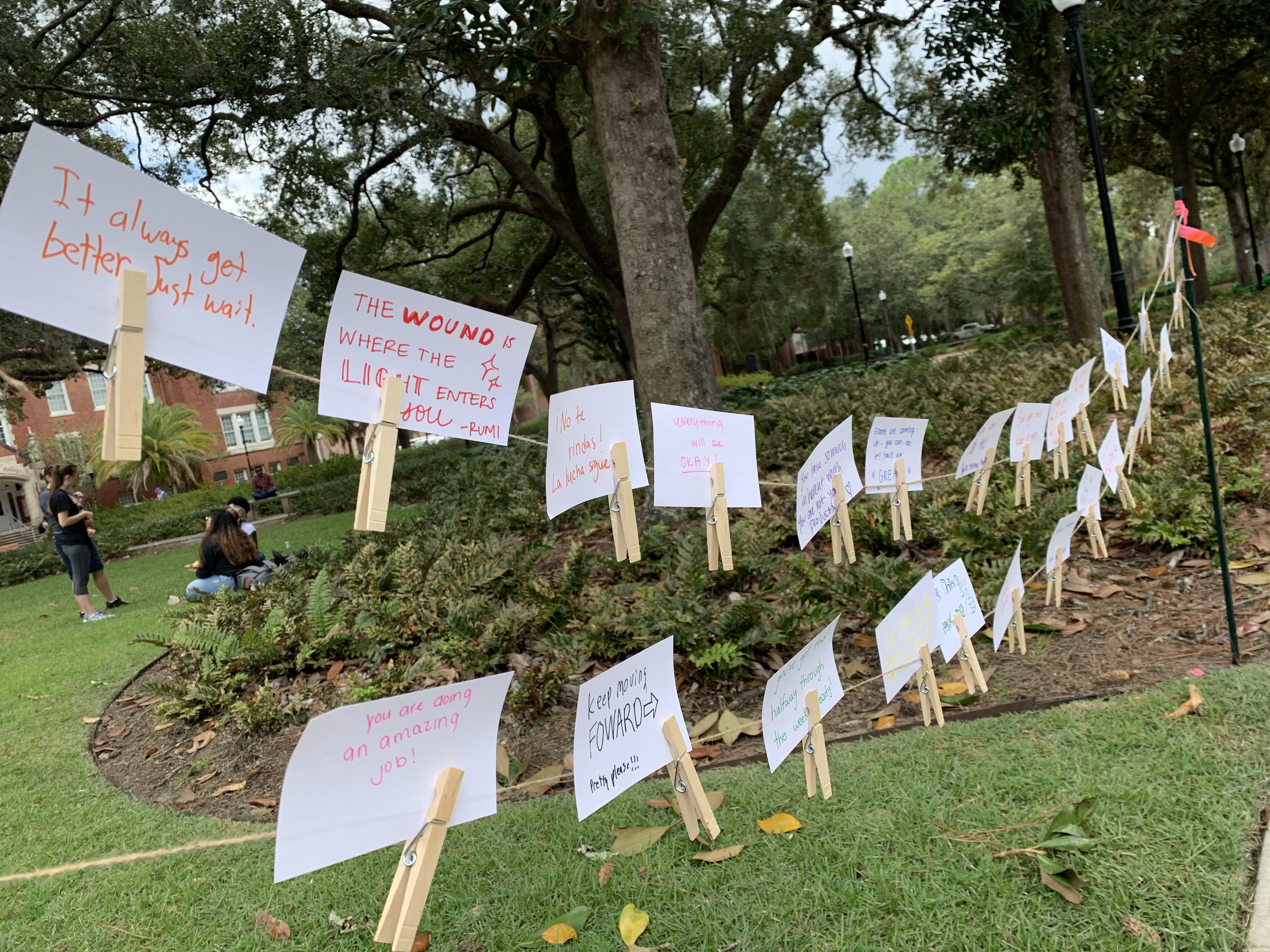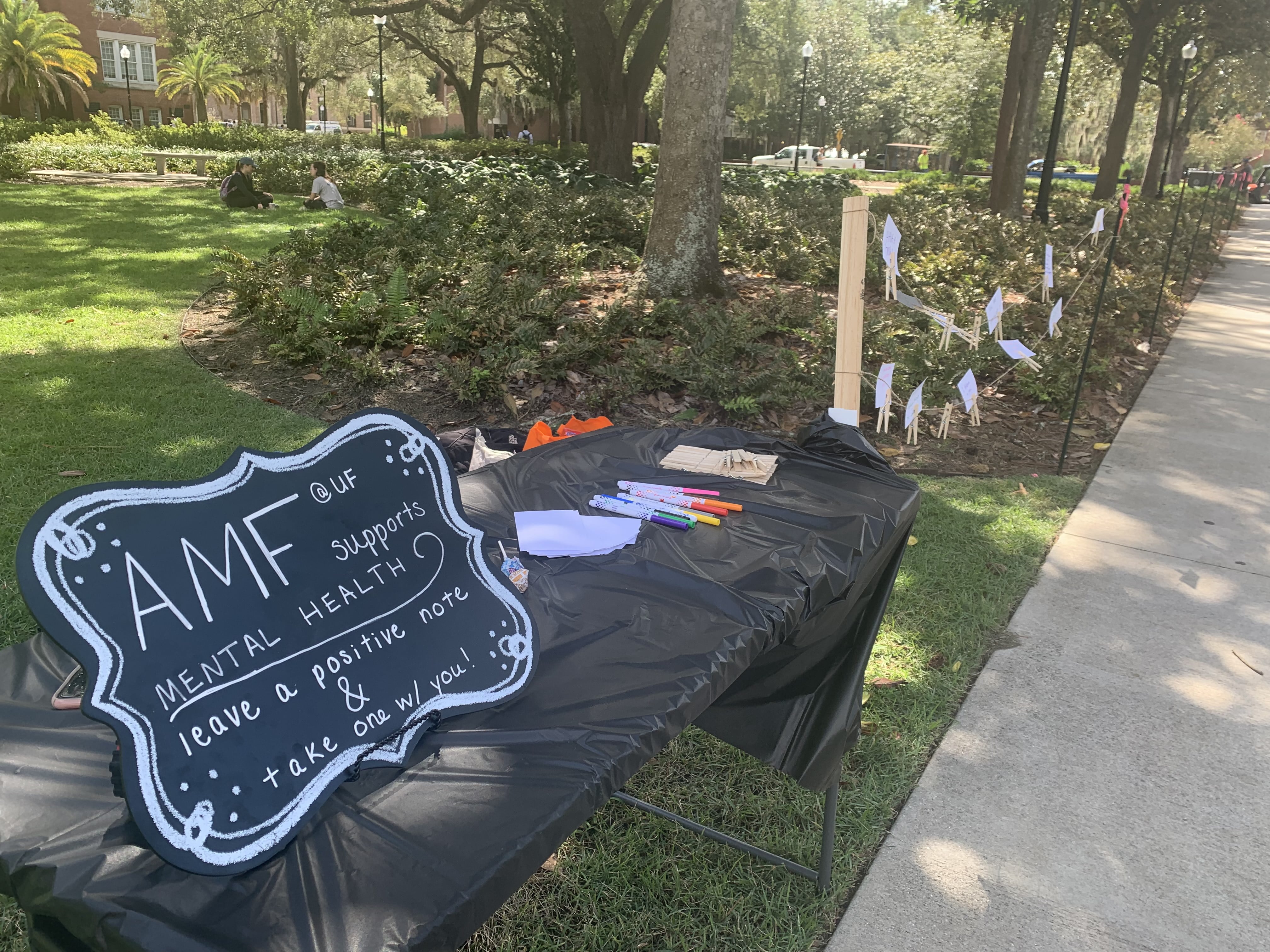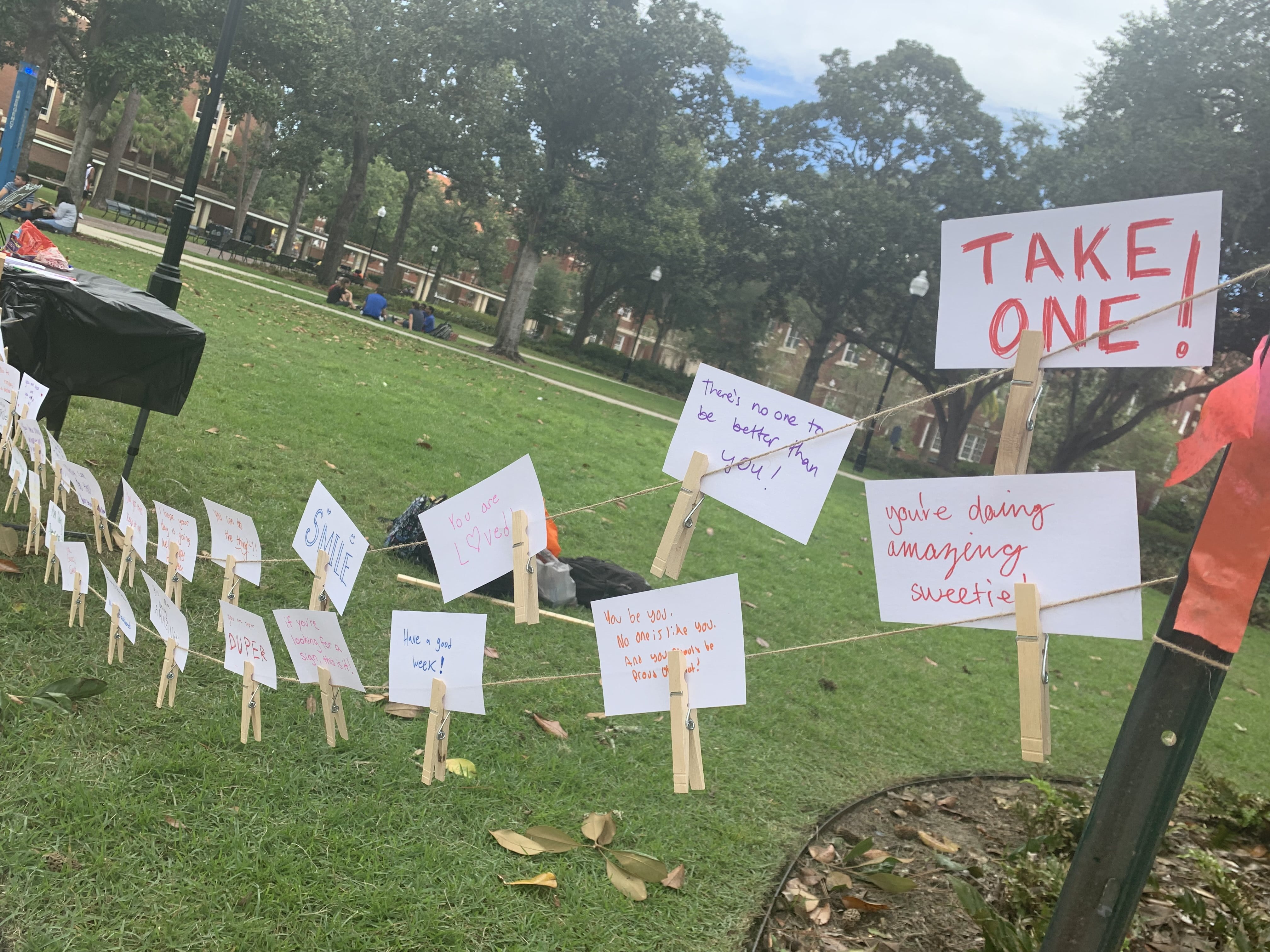 Our AMF chapters are always finding ways to reach out to their communities to spread the mission of AMF and help other grieving young adults know they are never alone. Here are two great chapters showing their AMF pride: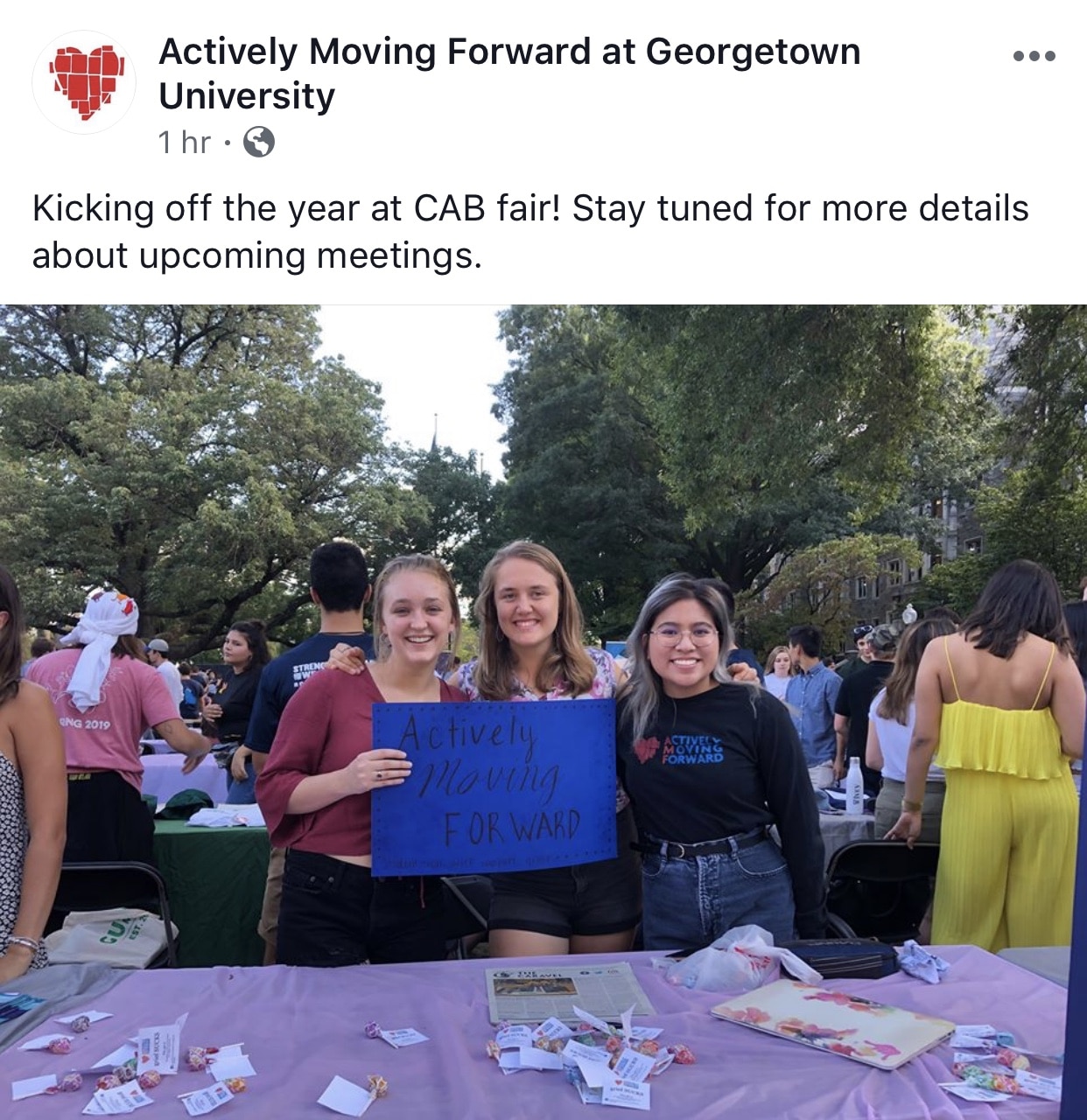 AMF at Georgetown University
"Our number one goal for the semester is to continue to provide a community that supports grieving students through meetings, social events, and service projects."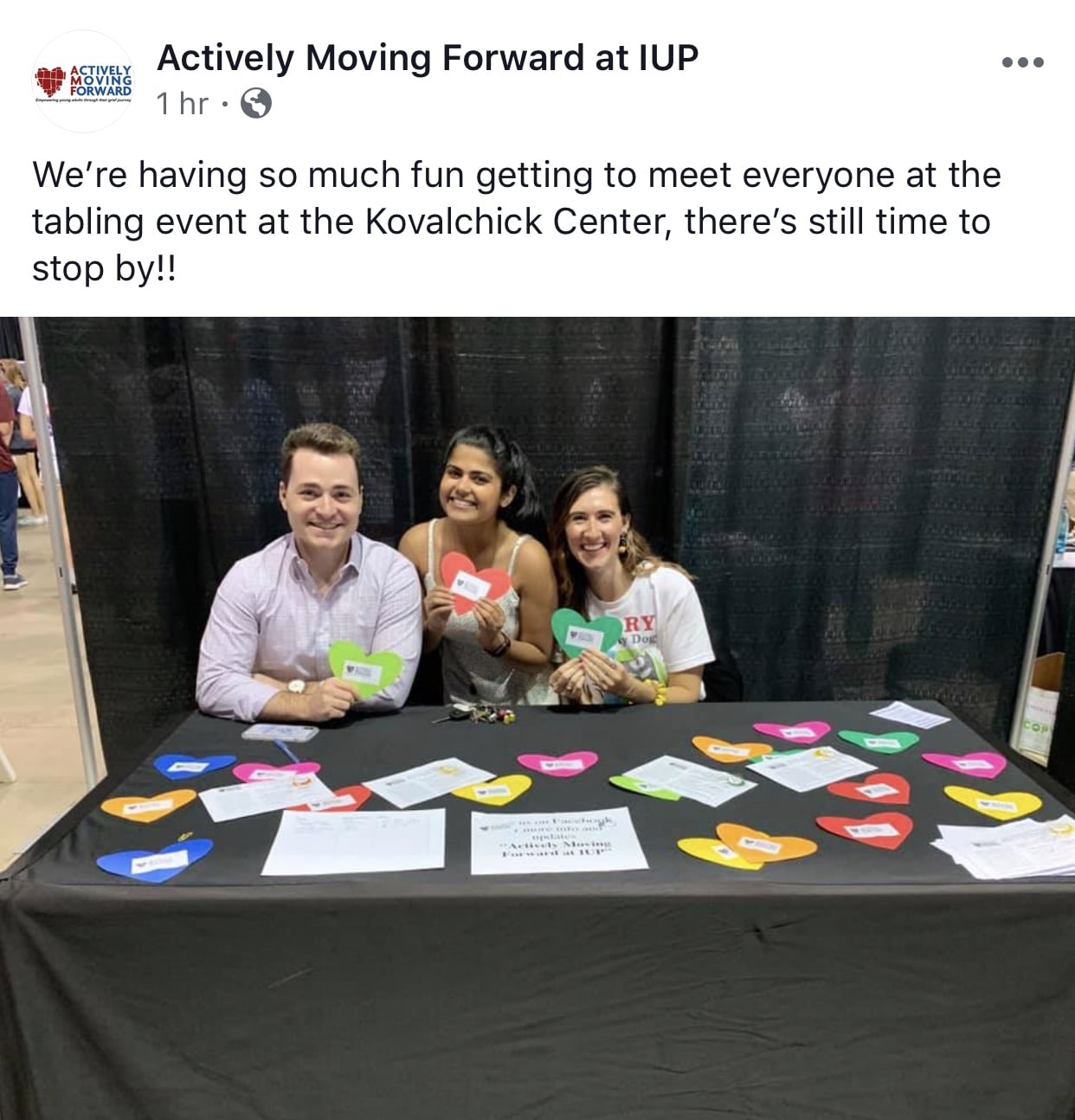 AMF at Indiana University of Pennsylvania
"Our number one goal for this semester is to find creative and fun activities for our group members to enjoy and provide a space in which they feel supported."