National Young Adult Grief Retreat – YAGR

In partnership with Experience Camps, Actively Moving Forward holds an Annual Young Adult Grief Retreat (YAGR).
YAGR 2019 will be held on June 13th-15th and will be in Equinunk, PA
Why provide a retreat for grieving young adults?
Social isolation is a huge risk factor for grieving young adults. Research has found that grieving young adults tend to withdraw from social relationships because they feel misunderstood by their non-grieving peers and their non-grieving peers are hesitant to engage friends who are grieving due to a lack of knowledge about how to help. Actively Moving Forward has created both national and local support networks providing social engagement, support, and understanding. The retreat setting offers young adults from across the United States the opportunity to gather with others who understand and find hope in the midst of their loss.
SAMPLE SCHEDULE
Thursday
4:00pm: Arrival & Check In
5:30pm: Welcome & Weekend Overview (AMF/ExCamps leadership)
6:00pm: Dinner
6:45pm: Young Adult Speakers
7:30pm: Game night
8:00pm: Evening Sharing Circles
9:00pm: Campfire
10:00pm: Late Night Snack
Friday
7:30am: Early Risers Activities
8:30am: Breakfast
9:30am: Team Building Activity on the Ropes Course
11:00am: Leadership Seminar Workshop
12:45pm: Lunch
2:00pm: Memory Hike
3:00pm: Self-directed fun
4:00pm: Self Care Collection
5:00pm Clinical period
6:00pm: Dinner
8:00pm: Service Project
9:30pm: Campfire/Softball under the lights
10:30pm: Late Night Snack
Saturday
7:30am: Morning Hike
9:00am: Breakfast
9:30am: Getting involved with AMF/Free Time
10:00am: Becoming an ExCamps volunteer/Free Time
10:30am: Closing Ceremony
11:00am: Departure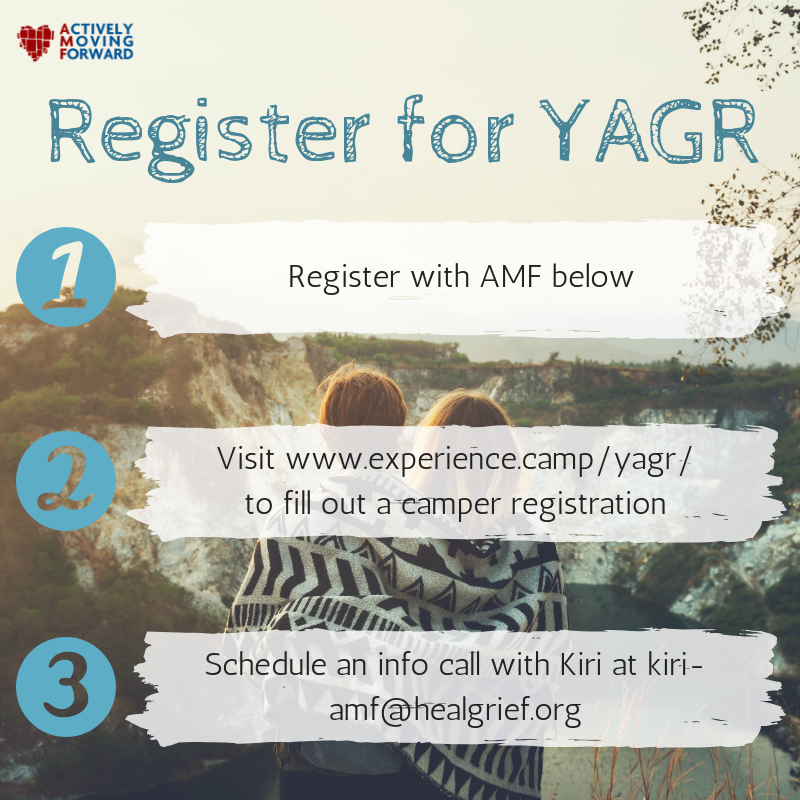 This camp is made possible by the generosity of its sponsors and is provided, free of charge to all registered young adults who qualify. A 100% refundable deposit is required to hold your space. Registrants will be contacted after registration.