Young adult grief, it's a silent epidemic!
Independent research reveals that about 1 in every 3 young adults between the ages of 18-25 are grieving their person's death or their person's diagnosis of a terminal illness.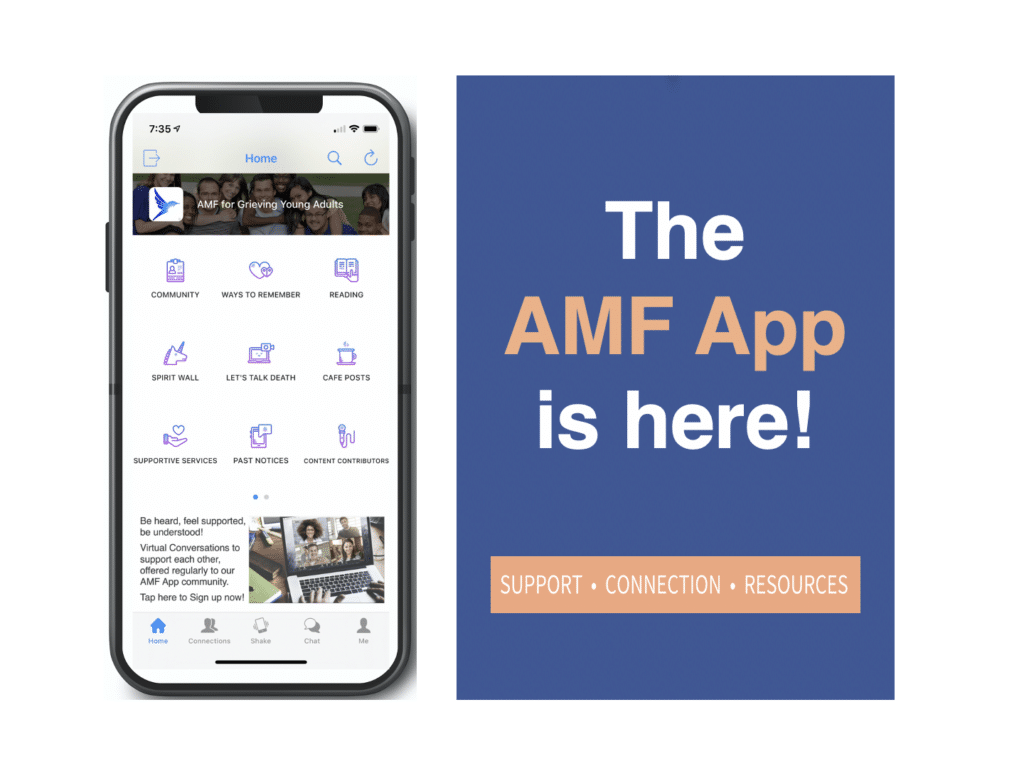 The AMF App for Professionals
Registration Required! Member have access to tools, resources, reading, videos, supportive quotes, community engagement via direct messaging, group chats, posts and interactive comment boards. Members can easily search for other professional (ie, faculty, grief support center, licensed professional, volunteer, etc.) to find others with similar, more specific interests and goals.


*Understanding Childhood Grief in the U.S.: Childhood Bereavement Estimation Model, (2018, June). Retrieved from http://www.judishouse.org/CBEM
"An estimated

1 out of 15 

children in the U.S. will experience the death of a parent or sibling before they reach the age of 18. Over

4.8 million 

youth are bereaved, and the number more than doubles by age 25, to

12.7 million

. Childhood bereavement is a prevalent and critical public health issue that can have a profound impact on future wellbeing."*
---
The JAG Institute has created the Childhood Bereavement Estimation Model (CBEM) to track the trends affecting today's grieving youth. The stats above only account for death losses of a parent or sibling, so imagine how the statistics shift when young adults start experiencing the death of peers and extended family members. Many young adults are coming to college already having experienced a death loss and may encounter more throughout their time at your institution – it is our job to support, empower, and connect them through these trying experiences.
Actively Moving Forward® (AMF) was created as a supportive service to address the needs of grieving young adults. AMF was started by grieving students to support grieving students and is now a national network with a portfolio of initiatives specific to supporting the needs of grieving young adults.
To learn more about grief, you can visit our section,

Understanding Grief

and there you'll find pertinent information about age and death specific relationships.