Actively Moving Forward® (AMF), a HealGrief® program, is a national network that connects, supports, and empowers grieving young adults, ages 18-25, faculty, and the professionals who support them.
Over the last decade, there have been many resources that have gone into benefitting grieving children. These resources seem to disintegrate at 17-18 years old when a child is now considered a young adult. Although considered a young adult, it is essential to note that they are still hitting developmental milestones. Their brains are not yet fully developed until around the age of 25.
This young adult population is most vulnerable in the face of a life-changing event, such as death. They seek more than ever, a way to connect with others; they need the support and learned coping skills to obtain a healthy personal growth, and they want to be empowered to "actively move forward" through their grief.
Whether you are already serving grieving young adults or looking to start, AMF has created the AMF Professional's Network, a new outlet for you to connect with other like-minded professionals to discuss the challenges and benefits of serving grieving young adults.
AMF is about helping grieving young adults fulfill their potential during one of life's most difficult times, their grief journey.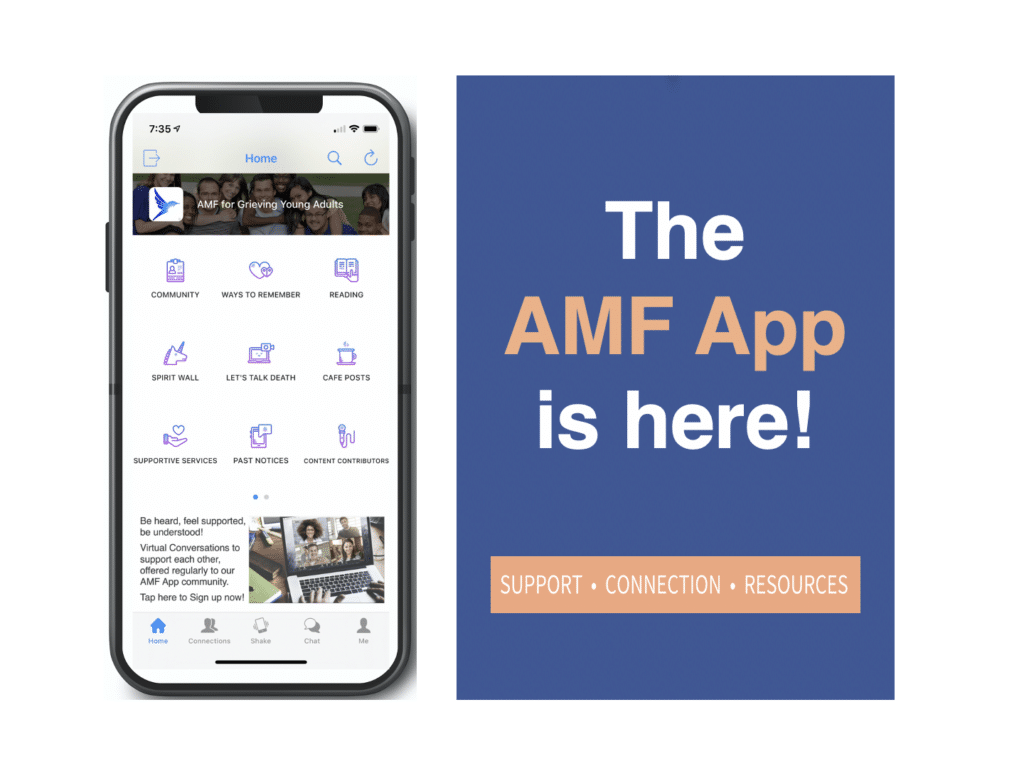 Join us and other professionals seeking to address the unique issues of young adult grief.
The AMF App for Professionals
Members have access to tools, resources, reading, videos, supportive quotes, community engagement via direct messaging, group chats, posts and interactive comment boards. Members will be tagged by location, type of professional (ie, faculty, grief support center, licensed professional, volunteer, etc.) so that members can find others with similar, more specific interests and goals. Registration Required!